Things I Hate on the Internet Volume 1
I have been trying not to write this post. Different versions have been sitting in draft for quite some time. I've tried to ignore it, other people have done a better job. And yet, people keep saying stupid things.
1. FML. This, to me, is a true indicator of all things over dramatic. Perhaps I don't get the nuance. But, it does mean fuck my life. Over spilling tea. Or too much mustard on a sandwich. Or a mixed up Starbucks order. Seriously people, relax.
2. Facebook drama. I understand that people have much more exciting facebook lives than I do, probably because I am old. People always talk about omnipresent facebook drama. There is a hide button. You can unblock. You are choosing the drama. If you are choosing the drama, there is no need to complain about it on twitter. You picked it; embrace it!
3. "Live" tweeting a show that is a few days old that you are watching on your DVR. There is something to be said about live tweeting a show with your friends. The "I love this song" when watching Glee. I can always tell when Hoarders is on because my time line is suddenly overwhelmed with rat counts. That said, when you are watching a show 3 days later then everyone else, tweeting every 5 minutes is annoying. It isn't a way to interact with your friends, it isn't interacting at all. It is spamming people's timelines with irrelevant tweets that are rarely clever.
4. Sheepish interjections on twitter. The fun thing about twitter is the interactions and the ability to jump in on any of the threads you are following. But. Entering in a conversation with "oh, I might be wrong, but maybe have you thought about…" undermines the authority of your voice. If you have no idea, why are you interjecting or answering at all? If there is a chance you could be wrong, that is fine to say, but sometimes people with their 5 billion qualifiers just need to grow a pair.
What makes it all worth it: Dawson's cryface gif and now jamesvandermemes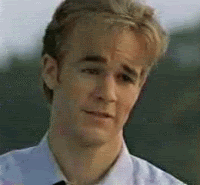 Tags: no one bought me a wall, stop saying fml, teampacey, things I hate on the internet