Wines For When You Need A Good Screw …Top!
I am so honored to be asked to contribute to Alana from Life On the Mom List's Wine Wednesday series. Those of you who follow me on the twitters know me as more of a gin girl and it is true. But, sometimes, every once in a blue moon, I like to class up the joint. A girl can't exist on gin alone. Besides, I'm not a huge fan on cocktails with meals, so that is normally when I drink wine, almost always a red.
My husband and I love to shop at BevMo's 5 cent wine sale and normally stock up then. Despite his experience working on the vineyard side of the industry and my attendance at one of the best viticulture schools in the county, neither of us are what you might call a connoisseur. We are a big fan of the descriptions and ratings provided in the store and the staff members provide great recommendations for wine and beer.*  That said, I am still a sucker for a cute label or clever name. Here are the types of wines we normally buy: Chilean reds (step-father-in-law is from Chile), Italian reds that are not Chianti (hubs was born in Italy, but is not Italian), reds with red in the name in a clever way (hubs is a red head) and wines with bad puns in the name. And not in that order. What? I am a sucker for bad puns.
A subset of delightful wines that I am super into are screw tops. This must maligned closure is making a resurgence for a couple reasons including the environmental impact of harvesting cork, ease of opening and the fact that you can't cork the wine. I think it is great, probably because I hate opening wine bottles. A screw top? That I can handle. The other thing that makes them kind of fun is proving the screw top haters wrong. I used to go wine shopping with a friend who was simply horrified at the idea of drinking screw top wine; that made me even more determined to find the good ones.
Wow. Longest.Intro.Ever. Let's find out what is under that screw top.
SANTA RITA CABERNET SAUVIGNON '120' 2008, Central Valley Chile
We love this maker's Camarene, so we thought we'd give the Cabernet Savignon as shot and it did not dissapoint. I am normally a little wary of cabs at the $10 price point because a bad cab is my least favorite of all wine.  This was great. The second glass was better than the first. Take a look at the picture below and see if you can figure out way. Top Chef fans should get it in no time. Rookie mistake.
Do you notice what shouldn't be on the plate when trying to taste a wine? The vegetable perhaps? Yes, while my parmesan cauliflower is delicious, it kills wine. So, we ate the cauliflower first, then the pesto potato salad and by the time we got to the steaks, our palates had refreshed enough to taste the wine. Paired with steak, it was great. I don't know that I would serve it at a super fancy party because, you know I get my ballgowns and Veuve Clicquot out once a month, but it is a perfectly delightful red table wine and would make a decent hostess or office gift.
As for wine tasting terms? There were notes of berries and cloves. I think it was full-bodied or at least that sounds pretty fun and sexy. It was really smooth and had a full mouth feel.**
RHONE VALLEY VINEYARDS LE FERME JULIAN ROUGE 2007 Rhone Valley France
If I am being completely honest here, we bought this one because it was under $10 and had a goat on the label. And it was french. We never buy french wines and thought it would be a fun change of pace. And then it sat in our pantry for, I think, at least 2 years. This is a blended red table wine: Grenache 50%, Syrah 20%, Carignan 15%, Cinsault 15%, (Of the grapes included in the blend, I have only heard of Syrah.)
For this tasting, I knew not to make the cauliflower mistake again, but made a new one: pizza! I have paired wine with pizza before with much success, something like a margherita or a white pizza works well, but the sausage on this pizza was a little too zesty and killed the wine. Again.
This actually turned out to be not such a bad thing because this wine could use the extra time to breathe. I had a sip when we sat down to eat and it was a little sharp. It mellowed considerably in the next 30 minutes and developed a nice fruity flavor. It is a little tannic, which is not my cup of tea, or glass of wine, if you will, but my husband enjoys it.
The second glass of this wine was great. I am not sure if that is because it came after bedtime or because the wine had been unscrewed for a few hours. I also think this wine made my blogging fab-o. Of the two, I would by the Santa Rita again for sure; in fact, I am pretty pleased that we have another bottle. As for the other? Maybe a different vintage. I hear there is one with a chicken on it!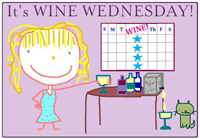 This is a weekly link-up, hosted by Alana (Life on the Mom List) doing whites and Eileen (Bringing Up Bronwyn) doing reds. Lindsey (Otto's Mom Blogs) joins in the fun and this week I am too! There is a linky at Bringing Up Bronwyn this week where you link up a post you wrote about wine this week. Then head over to Life on the Mom List for the button code. Yay! Super fun!
*This post was not sponsored by BevMo, but they should totally send me to BlogHer.
**That's what she said.
Tags: beer? beer I am good at, declaring myself an expert again, this post made me sound like an ass, wine wednesday